National Day for Truth and Reconciliation 
Land Acknowledgement
The Perth East Public Library would like to acknowledge that Municipality of Perth East is situated on the treaty lands of Anishinaabe. This acknowledgement demonstrates a commitment towards the pursue of truth as we move towards reconciliation, while honouring those that came before us and on whose traditional land we now reside. 
According to the Gord Downie & Chanie Wenjack Fund, National Day for Truth and Reconciliaton is recognized on each September 30th. This day fullfills the Truth and Reconiliation Commission's Call to Action #80 and "will serve as a day of remembrance, reflection, action and learning" (Downie Wenjack Fund). Last year was the first year the holiday was enacted, however prior to this, beginning in 2013 September 30th was known and remains to be known as Orange Shirt Day, a day to recognize the tragic history and long-lasting effects of residential schools on Indigneous Peoples (Downie Wenjack Fund). 
Truth and Reconciliation Call-to-Action #80:  We call upon the federal government, in collaboration with Aboriginal peoples, to establish, as a statutory holiday, a National Day for Truth and Reconciliation to honour Survivors, their families, and communities, and ensure that public commemoration of the history and legacy of residential schools remains a vital component of the reconciliation process (Downie Wenjack Fund).   
Orange Shirt Day was the predecessor of National Day of Truth and Reconciliation and is a grassroots movement, meaning that it was began by "ordinary people" opposed to government officials or large organizations. 
As per the Orange Shirt Society, Orange Shirt Day is in recognition of the harm that the residential school system had to children's sense of self-esteem and well being, as as an affirmation of our committment to ensure that everyone around us matters (Orange Shirt Day). 
 The following story is of Phyllis Webstad and her experience going to a residential school: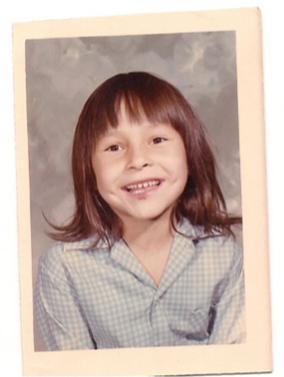 I went to the Mission for one school year in 1973/1974. I had just turned 6 years old. I lived with my grandmother on the Dog Creek reserve. We never had very much money, but somehow my granny managed to buy me a new outfit to go to the Mission school. I remember going to Robinson's store and picking out a shiny orange shirt. It had string laced up in front, and was so bright and exciting – just like I felt to be going to school!

When I got to the Mission, they stripped me, and took away my clothes, including the orange shirt! I never wore it again. I didn't understand why they wouldn't give it back to me, it was mine! The color orange has always reminded me of that and how my feelings didn't matter, how no one cared and how I felt like I was worth nothing. All of us little children were crying and no one cared.

I was 13 years old and in grade 8 when my son Jeremy was born. Because my grandmother and mother both attended residential school for 10 years each, I never knew what a parent was supposed to be like. With the help of my aunt, Agness Jack, I was able to raise my son and have him know me as his mother (Orange Shirt Day).

I went to a treatment centre for healing when I was 27 and have been on this healing journey since then. I finally get it, that the feeling of worthlessness and insignificance, ingrained in me from my first day at the mission, affected the way I lived my life for many years. Even now, when I know nothing could be further than the truth, I still sometimes feel that I don't matter. Even with all the work I've done!

I am honored to be able to tell my story so that others may benefit and understand, and maybe other survivors will feel comfortable enough to share their stories.
Attend an event for National Day of Reconciliation - Below is a listing of events both virtual and in person if you would like to participate
Wear orange on September 30th to honour Survivors of residential schools and those who vener returned home

If you would like to buy an orange shirt for this day, it is encouraged you buy from an Indigenous artist or a company that supports Indigneous causes such as Old's Cool General Store (which directs proceeds to Anishnawbe Health Toronto) or directly through the Orange Shirt Society

Listen to the stories of residential school Survivors from A Day to Listen or through other mediums and sites
Read books on the topic, we have a curated list on our website
For more resources, click on the link below
Starting Points
Listen
Learn 
Act
Watch
Support
Donate